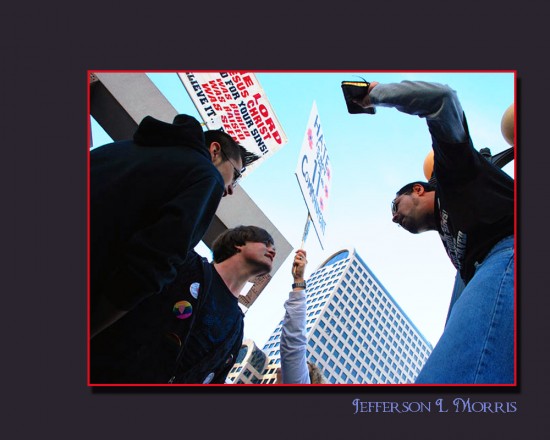 Jeff thought he would change things up a bit this week and send you one of his Photojournalism shots.  Sometimes it is just cool to look at the world around us and see what is going on. Here is the caption for his photo: Two young gay boys argue with a street preacher durning the Marriage and Equality March in downtown Seattle on Saturday, Novermber 15th, 2008 http://www.photosforthepeople.com and http://pushprocess.blogspot.com <–Blog Site  
I have seen some amazing photography come out of Seattle protest.  A few years ago Kari Hamilton, from the Professional Photographers of Washington,  had an stunning  image of a skateboarder with a mask  with the Seattle swat team, it was just amazing.
Getting out, and capturing these events takes work. Thanks Jeff for another awesome image.