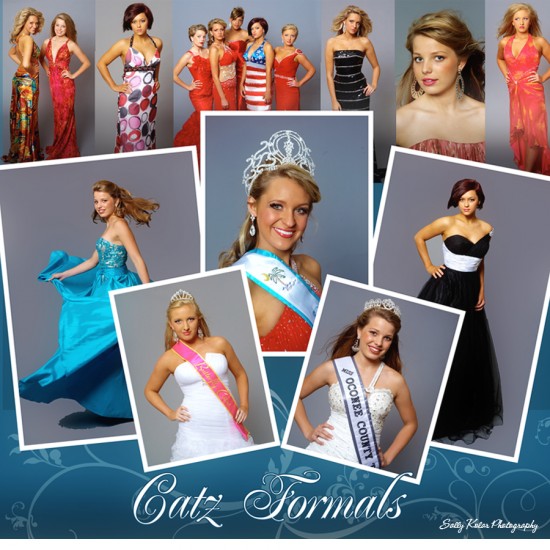 Hey Everybody! I did an amazing lengthy photo session this past Sunday for Catz Formals out of West Columbia, South Carolina. They brought in formal wear from their shop for us to photograph at the studio. As you can tell the evening gowns are amazing. And the models are pageant winners from here in our own local area. These girls are beautiful.  Well, first a little about the shop, it is owned by Chris and Tammy Newton. They specialize in wedding dresses, pageant, prom and bridesmaid dresses and tuxedo rentals and all the accessories you need to go with for your big event. The Shop is located at 2238 Airport Blvd. in West Columbia, SC. There phone number is (803) 926-7170.  Also, working on our photo shoot today was the Edge Salon and Spa owners David and Valerie Towles. At their shop they also carry a full selection of prom, pageant, and party dresses. For this photos session, they did all the hair and make-up. They started early in the day getting the models ready for the shoot. It is so helpful when I am photographing to have a makeup artist and hair stylist work the session. I love this group!!! And here is a little more  information about our beautiful models:
Emilie Sears-Emilie is fifteen years old. She has participated in pageants in South Carolina  and was awarded Perfect Junior Teen '08, She was  also Folly Beach Teen Queen 08-09, and Oconee County Teen '09! She has been on a DVD "Gigi" Gods Little Princess, and on Billboards for Mungo Homes. She has done commercials for School Choice, Mungo Homes, and Autism-Learning and teaching dvd's. And she has participated in community theatre for over eight years.
Elizabeth Towles-Is Seventeen. She has been in pageants for the last eight years. She lives in North Augusta, and is a senior at North Augusta High School. She was just crowned Miss Teen Riverblast this past summer!
Asunsheya Sheppard-Asunsheya is a student at University of Phoenix.  She is an aspiring model.
Jade Lanford-Is a senior. She is the current Queen of Edisto Beach. She is 18 years old. She is also Miss Sportsarama!
Autumn Dawn Adams- Is 16 years old. She is a junior in high school, She is Little Miss Teen West Columbia '09. She is Teen Butterfly Cuties '09. Miss Greater Pee Dee Teen '08! She has had voice training and guitar training. She desires to become a country singer and perform at the Grand Ole Opry one day!
Well, to all of you, thank you for a wonderful day, and a fabulous photo session, your images are amazing!
Sally