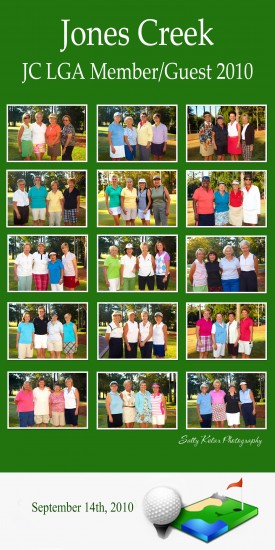 Hey Everybody, I am out early this morning!!! Jim Burton has me photographing the JC LGA Member/Guest 2010 Golf Event. There are alot of women up here and it is so nice to see them all dressed so sporty and enjoying a day off from their normal work schedules. I know this for a fact, as I saw many of my friends up here who run very succesful business's here in town-I am thrilled to see them out having a little fun and doing some awesome social networking. I was so excited when I saw how blue the skies were and I just knew they were going to have a perfect day!!! I haven't heard what team won yet, but when I do, I will try to post it. Here are all the girls who played today, there pictures are above:
I just got a phone call from Jim Burton and he is proud to announce that his very own wife Sandra Burton won the golf tournment!!!! Congratulations Sandra!!! Sally
Pat Lewis, Kathy Resseguie, Barbara Barth, Becky Halpin, Vickie Fritsche, Ruth Ann Henderer, Jackie Rozelle, Barbara Rozell, Nancy Cannon, Tab Carter, Cindy Troupe, Anne Sanders, Carol Pepin, Charlotte Joslow, Vivien Morse, Brenda Allen, Sybil Schramm, Eleanor Barbee, Carol Mcclure, Sharon Eckert, Bev Smith, Caroline Ashe, Kathy Brittingham, Martha Brown, Kathy Stone, Susan Hubbard, Mary Trobaugh, Camille Morgan, Ellie Gochenaur, Catherine Carlisle, Camille Woodruff, Jane Waller, Charlotte Johnson, Deanne Fullerton, Debbie Fryer, Debra Wilcox, Panny Force, Nona Rhodes, Bridgette Whitehead, Sandra Freedman, Jeri Schrader, Debra Hatcher, Kay Smith, Carolyn Clark, Debbie Yano, Fran Warner, Lynda Johnson, Ginger Johnson, Barbara Davison, Diane Rice, Sharon Nix, Chris Wingeier, Sandra Burton, Carolyn Hooks, Liz Scheuer, Lawrett McCann, Marian Sumrell, Carol Morris, Deanna Clepper and Milly Boyt.
Sally Kolar Photography