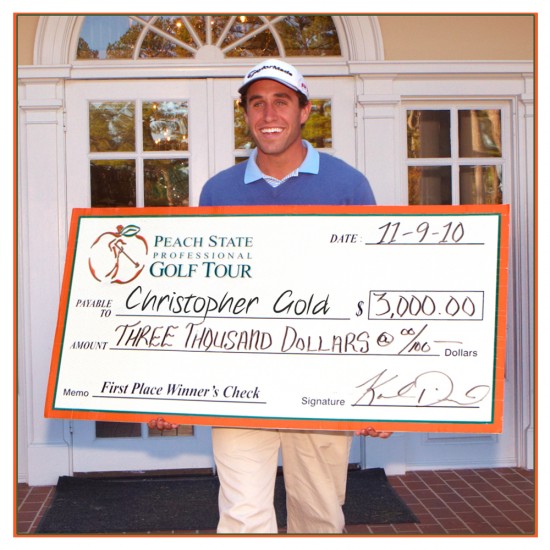 Hey Guys, I was out at Jones Creek yesterday photographing Chris Gold. He had just found out he won the PSPGT event, then I got to follow him up to the clubhouse as he accepted his nice check for winning the tournament. Chris was so happy!!!
Here is the article that the Peach State Professional Golf Tour wrote about the event:  Chris Gold birdied the final two holes of the Jones Creek Golf Club to come from behind and capture the Peach State Professional Golf Tour's Winter Series opening tournament. Gold also won the PSPGT event held at Jones Creek earlier in the year. Gold earned $3000 for his victory. First round leader Drew Bowen had a bout of bad luck when his ball moved on the green after he had already lined up and grounded his putter. The penalty and subsequent missed putt caused him to fall back into a four way tie for second with Jimmy Brandt, Casey Johnson and Jared Trammell. The next stop for the PSPGT will be this Thursday/Friday at Champions Retreat in Augusta. Also the first annual Turkey Trot 4Ball will be held Monday/Tuesday at Monroe Country Club. Entries are still be accepted. Get a partner and come play in this fun event. Beginning in January, the PSPGT will be running two day events twice a week with a week off in between. All of the Thursday/Friday events will have a guaranteed first place of $5000. All tournaments will have a payout of 85% or better. We are finalizing the schedule now but all events in January and February will be in the central Florida. We are trying to stay where the weather is good. More information and a complete schedule will be coming soon! Thanks to all of our members and participants from our 2010 Spring/Summer Series for making The PSPGT a success. Good luck to all of the players playing in the Jones Creek Winter Series opener.
And to Chris….YOU ARE AWESOME!!! Congratulations on your win. You are TPMA's "Gold"en Boy!!!
Sally Kolar Photography