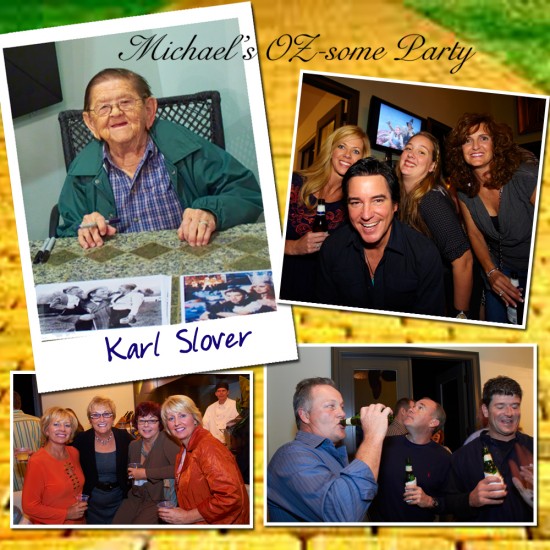 Hey Everybody, so like I was telling you, Saturday was one busy day, and after our wedding we were invited out to Michael Siewert's home to photograph a Wizard of OZ party. As you all know Michael is one of the largest collector's of Judy Garland memorabilia in the country. At his home this weekend visiting was one of the original actors who played a munchkin in the movie. His name is Karl Slover, and he is 92 years old. Michael's home was just filled with excitement as everyone I know came out to meet Karl. I heard earlier in the evening he sang the song from the movie…We're off to see the Wizard. He is a very nice man and I thank Michael so much for inviting us to his party. It was totally OZ-SOME!!!!! And for all of you who would like to check out Michael's Judy Garland Collection, he is at the Rosemary Hall in North Augusta doing a designer showcase. The collection is fabulous. You should all go check it out!!!  Sally
Hey guys, they did a great article in the Augusta Chronicle about Michael today (November 7th, 2010) thought I would add it to the blog so you could read all about it!!!
Judy Garland Collection on Display- written by Lisa Kaylor-Staff Writer Augusta Chronicle
What started with a postcard has grown into what has been recognized as one of the largest Judy Garland collections in the world.
Michael Siewert became fascinated with the actress after watching The Wizard of Oz, and when he was 6 years old, he bought his first postcard.
That led to buying dolls and plates and other things he could afford. "As I got older, it just got out of control" he siaid. "She's just amazing."
He now owns 18 dresses and other articles of clothing Garland wore throughout her career as an actress and a singer. The dresses and other memorabilla are on display noon to 6 p.m. today and Tuesday through November 14 during Rosemary Inn's Designer Showcase in North Augusta. The dresses are displayed on mannequins around the room. At the foot are photographs of Garland wearing the item. A television plays a succession of video clips of Garland performing in each displayed dress. Memorabilia on display during the showcase includes original sheet music from her television show, books with her photograph on the cover, concert programs and her high school diploma. Siewert has also displayed some of her hand-signed Christmas cards.  "The Christmas cards are interesting because you can see the transformation of her family." he said. "There's one that says "Merry Christmas, Judy Garland." Then you can see "Judy Garland, Vincent Minnelli and then Judy, Vincent, Liza Minnelli," when Liza came along. And then a new husband altogether."
Siewert's collection has allowed him to meet many interesting people. He purchased some pieces, such as the diploma from Garland's family members or actors who worked with her. He displays his collection around the country six or seven times a year. He enjoys sharing his collection with other fans and giving people who knew her only as Dorothy from The Wizard of Oz the opportunity to learn about the rest of her career.
"This is American musical history," he said.
What a great article on Michael. Make sure to check it out in today's Augusta Chronicle.