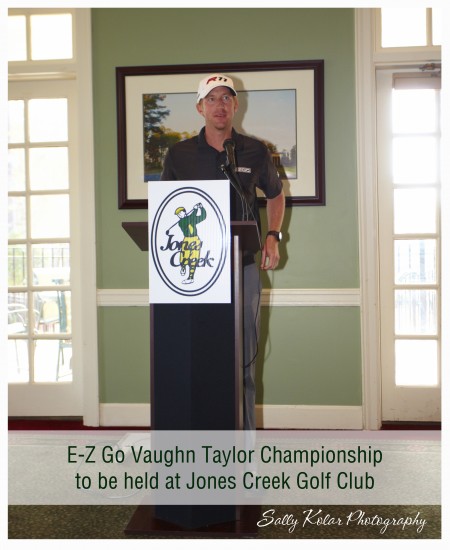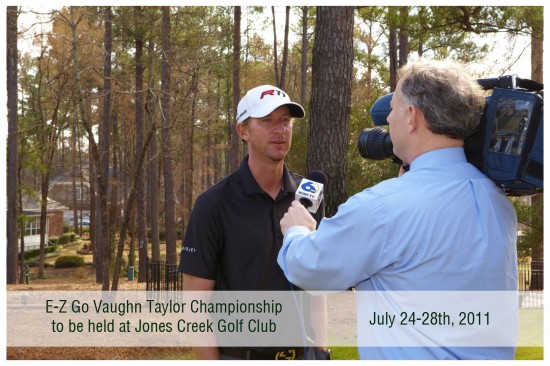 Hey Everybody, I am out at Jones Creek today for a very important press conference. They have just announced the E-Z-GO Vaughn Taylor Championship will be held at Jones Creek Golf Course. The room was filled with golfers and fans, the local paper, channel 6 and channel12, and your very own, Sally Kolar Photography. The event is going to be awesome and will be held July 24-28. Here is the press release from  Ray Mundy.
Evans, Georgia
The American Junior Golf Association and Jones Creek Golf Club have partnered with PGA Touring Professional Vaughn Taylor to host The E-Z-GO Vaughn Taylor Championship, to be held July 24-28.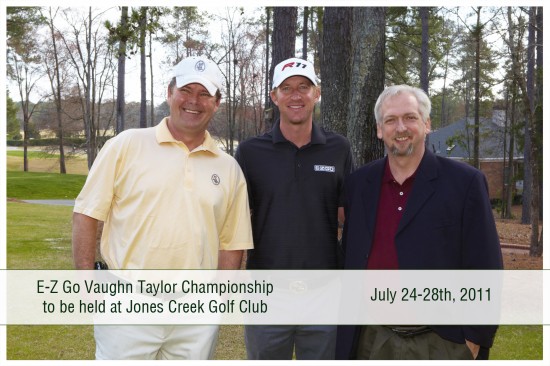 "Augusta is a very special place to me. It's where I grew up, where I got my start in golf and the place I call home, " Taylor said. " I could not be more excited to partner with E-Z-GO on this great AJGA event that's going to be held at Jone's Creek.
Golf Action will begin with practice and qualifying rounds Sunday, July 24, followed by a Junior-Amateur Fundraising  Tournament on Monday. Tournament play will begin Tuesday July 26 and conclude Thursday July 28.
"E-Z-GO is passionate about supporting the Augusta community and youth programs withing the golf industry," said E-Z-GO President Kevin Holleran. "The growth of golf is dependent on our ability to encourage and support junior programs. E-Z-GO is proud to sponsor and support Vaughn via this worthwhile event and contribute much needed funds to the American Junior Golf Association and our community"
E-Z-GO has sponsored Taylor for over four years.
Jones Creek Golf Club was originally designed by Rees Jones and opened for play in December 1985. In 2003, the course was renovated by Tom Fazio and a world class teaching and club fitting facility was added. Club industry professionals Ray Mundy, Kathy Wentworth and Gregg Hemann acquired Jones Creek Golf Club in October of 2008 and began operating the facility with a very specific goal.
" WE want to make Jones Creek the best facility in the region to learn and play golf with family and friends" said Ray Mundy, President of Jones Creek Golf Club. "Our commitment to the future success of golf begins with the junior players. So when Dan Troutman, Tournament Chairman, asked us to host the event, it was an easy decision for us to make this happen.
Troutman has been involved with the AJGA's Augusta event for many years.
"I love this game and enjoy every opportunity I have to give back to the juniors. I was unbelievably impressed with the character and class of the events and participants ans wanted to help move it to another level," Troutman said. "WE make this a very special event and pay attention to every detail. This allows us to show the players how tour events are run and by their participation in this event, the juniors experience firsthand how it feels to play in a tournament run like a PGA or LPGA Tour Event.
The tournament, in it's first year at Jones Creek Golf Club, will see an added benefit with the new support of Taylor and E-Z-GO.
"This year we have made several changes to the event but most of all we are excited about our association with Vaughn Taylor and E-Z-GO," Troutman said. Vaughn grew up in the Augusta area and has given back to our community in many ways.  This event will allow him to share his passion and love for golf and inspire many young players to make a difference just as he has in Augusta."
A portion of the proceeds from this event will go to support the Green 2 Green Foundation in association with The Wounded Warriors Project. This organization offers services to assist our military heroes as they re-enter civilian life. Wherever they call home, our returning soldiers often return with more to overcome than physical wounds. They often come back from war with psychological discomforts such as post traumatic stress disorder and traumatic brain injury, impacting their family life, social interactions, career aspirations and personal fulfillment.
Without the support of local businesses, this event would not be possible. Local Supporters include Papa John's Pizza, the Hilton Garden Inn  and the Sheraton Augusta.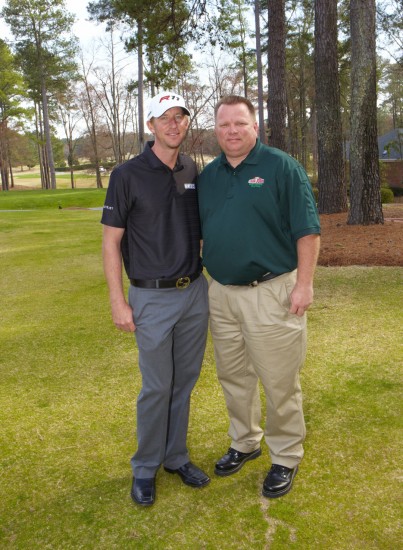 " The Hilton and Sheraton Hotels are proud to support the AJGA and junior golf and look forward to this year's E-Z-GO Vaughn Taylor Championship at Jones Creek Golf Club," says Kim Roberts, Marketing Director. http://www.sheratonaugusta.com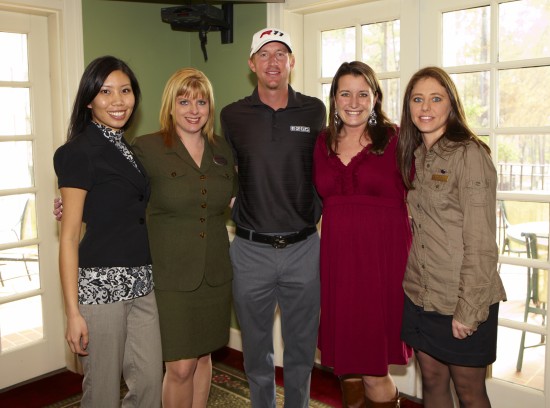 Follow Updates of the tournament and sponsors at www.augustaajga.com
And just this morning in the Augusta Chronicle,  here's the link:
Taylor on board for junior event | The Augusta Chronicle
chronicle.augusta.com