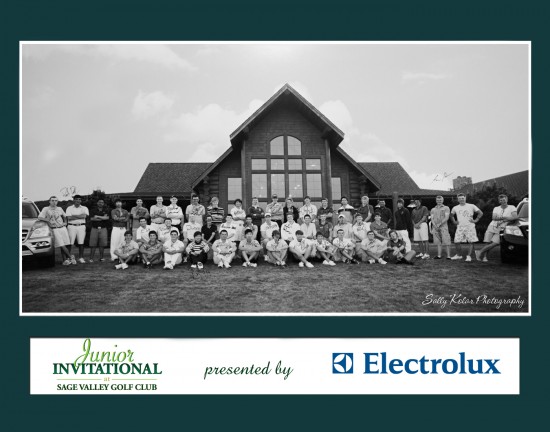 Hey Everybody, it was an exciting week! We photographed the first ever Junior Invitational out at Sage Valley Golf Course. The best young golfers in the world came to participate in the tournament, and it was very exciting to see them golf and compete for the first ever yellow jacket given out by Weldon Wyatt and his son Tom. WE spent an amazing week covering the Electrolux group, and if you missed it you should plan on attending next year. The sponsorship by Electrolux was amazing!!! The winner took it all though. Nicholas Reach who has signed on to attend the University of Georgia won!!! Congratulations to all the young golfers who participated and made this such a special event!!! Sally
To view our thousands of pictures taken at the tournament: Go to the top of the header bar: Look for "Your Event" double click, tournament days are listed in separate galleries, hope you all enjoy the photos! Sally
Here is the review from the Augusta Chronicle:


Sports columnist for The Augusta Chronicle.
Junior Invitational easily lived up to hype
Staff Writer
GRANITEVILLE — Where do you begin with assessing what we just saw at the inaugural Junior Invitational?
There was this Facebook status update from Gudmundur Kristjansson, the 18-year-old competitor from Iceland.
"When I die, I don't want to go to heaven. I want to go to Sage Valley."
And this e-mail to his athletic director from Josh Gregory, the head coach of reigning national champion Augusta State.
"I have never seen a junior event this impressive … and perhaps the finest amateur event I have ever been to!! This will become the best event in junior golf."
And this comment from Alabama head coach Jay Seawell is illuminating.
"I wouldn't go to college or turn pro to play in this every year," said Seawell, the former Augusta State coach.
Or this review from Alabama signee Justin Thomas, an 18-year-old who shot 62 on Friday.
"Oh my god," he said. "We're so jealous we're not 14 and can't play in this tournament another four years. I've never experienced a junior event like this. It's ridiculous. I can't wait to make fun of the kids who didn't come here and tell them what they missed."
One of the things they missed was seeing PGA Tour Commissioner Tim Finchem — yes, that's right, the PGA Tour commissioner was at Sage on Friday — presenting runaway champion Nicholas Reach with the first gold jacket awarded to the Junior Invitational champion.
"I've been giving out trophies for 17 years but this is my first amateur and junior," said the man who runs the most elite golf tour in the world.
Finchem was the most notable guest among the couple thousand who showed up on a gray Good Friday to watch some incredible golf played by juniors and to see what is so special about this club that Weldon Wyatt has built among the South Carolina pines. His presence was a big deal to the kids and sent a message as to the significance of this event to both junior competition and to The First Tee that is helping foster the next generation of golfers and good citizens.
"Weldon told me I needed to be here, so here I am," Finchem said. "I need to be here to support The First Tee. It's a great thing for junior golf. I know what it takes to put on a golf tournament, and they've done it right here."
Finchem was so impressed with what he saw on Friday that he shared it with Wyatt in his office.
"I've been to a few U.S. Amateurs and they don't have as many people that are here today," he said.
There are a lot of prominent people who promise to create the next great thing in golf but fall woefully short of living up to their own lofty expectations. So when Wyatt and the folks at Sage Valley announced a couple of years ago that they planned to create the so-called Masters Tournament of junior golf, it was easy to be a little skeptical. Few have ever pulled off anything remotely close to Masters-like stature in endeavor.
"We introduced a tournament that had no credibility," said Dave Christensen, the Sage Valley manager. "We were selling nothing but an image and Mr. Wyatt's vision, and we were able to get 54 players. Now we're selling a reputation and not a vision. We want an invitation to be a coveted."
Some top juniors got invited and for whatever reason chose not to attend. That won't happen again.
"The stories coming out of this tournament, people will do whatever they can to get here," said Brandon Stone, 18, who traveled all the way from Johannesburg, South Africa, to play in this event. "It's just awesome. All the players staying here together, we've built a lot of friendships that will last our entire careers. I can see this within five years being considered a junior major."
The folks at Sage Valley said all along they'd spare no expense to do what they promised. They flew some of the best junior golfers and their families from all over the world, put the players and a friend up on site (while the parents had to endure the Augusta Marriott), fed them, entertained them, fawned over them to an extravagant level that even Finchem's tour doesn't treat the best pros.
And the players and parents could do nothing but gush.
"I don't want to ever leave," said Brigitte Reach, the mother of the champion.
When the tournament organizers asked players and family at a Thursday night dinner what they could do better in the future, the room broke out in laughter.
"Make it four days instead of three," was the only response from people who have experienced most of the biggest tournaments in junior and amateur golf and universally lauded the Junior Invitational as the best they'd ever been to — by far.
"Our goal was to make this the premiere junior golf event in the world," said Russ Krueger, a chairman on several of the 31 subcommittees that volunteered to stage his event. "It takes some time to gain that stature. But if you listen to the parents and most of the players, it wouldn't sound too precocious to say it's achieved that status."
With one tournament, Sage Valley has made an indelible impression on not only the 54 juniors from 18 countries who played in the event but the 22 kids from the Augusta, Aiken and Columbia chapters of The First Tee who were treated to rounds with caddies in the competitor-amateur.
They also got people to notice Sage Valley. The Junior Invitational Web site got 80,000 page views on Thursday from 450 cities in 71 countries from Zimbabwe to Luxembourg. They received e-mails from the Philippines and Iceland.
"They've started a foundation and I can see it going on for years," Stone said. "They'll get the 54 best juniors in the world here every year. When I'm on tour one day, I want to come back here and be a part of this."
In three days they have silenced skeptics who scoffed at the idea that kids from across the world would one day aspire to qualify for a spot at Sage Valley the way pros crave an invitation to Augusta.
"I believe we're there," said Christensen. "With the social networking we're pulling up, the word is out that you have to come to Sage Valley."
Wyatt had a vision and a mission to fulfill. He can consider it accomplished.