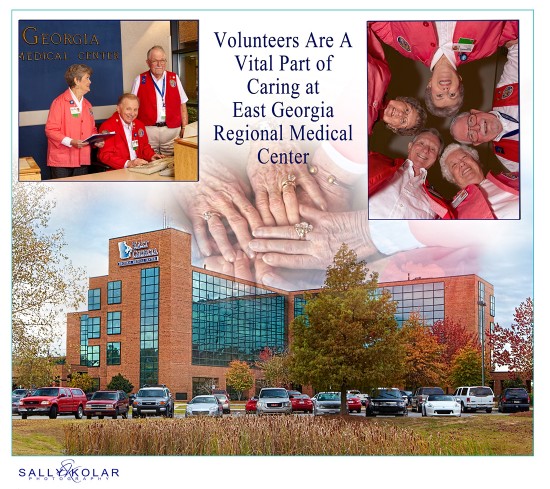 Hey Everybody…We headed to Statesboro on Thursday to photograph at the East Georgia Medical Center located on Fair Road in Statesboro. We photographed for Mr. J. Darrell Waters. He is a wonderful man who is in the director of Auxiliary Services and Marketing for the Hospital. They were making a new brochure and needed new photos.
If you are in the Statesboro area, and interested in volunteering at the hospital, please contact them.  The volunteers who join the Auxiliary of the East Georgia Regional Medical Center are so helpful.  The mission of the Auxiliary is "to provide quality volunteer services with compassion and care for East Georgia Regional Medical Center (EGRMX) and to enhance and preserve the health of our community." Their  volunteers come from all walks of life and professional areas. Their volunteers care about the patients, the families, and the quality of care delivered to every person by EGRMC.
Volunteer opportunites currently exist in the:
Gift Shop
Mail Room
Medical Records
Information Desks
Nursing Units
Surgery Waiting
Women's Pavillion
Volunteers are committed, share and give their time and energy. They are amazing!
Auxiliary volunteers also participatie in fundraising activiites during the year. The Gift Shop is their major fundraisng project. Their  fundraising proceeds provide:
*academic scholarships
*equipment and furnishings for EGRMC visitor areas
*newspapers for EGRMC patients and support for community health-related activities.
For volunteer information, contact the hospital at (912) 486-1575