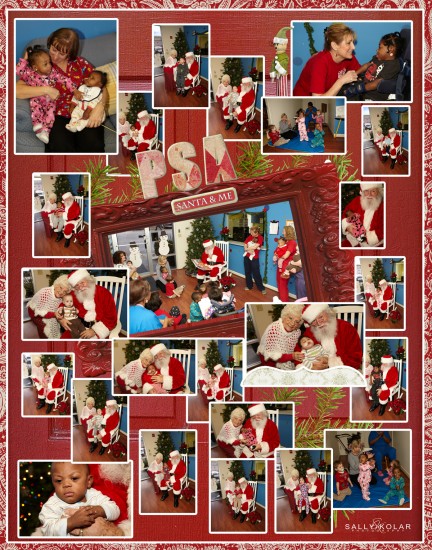 Hey Everybody, we were at PSA Healthcare with Santa Apple on Thursday morning. We were pleased to go with him and we gave all of the kids their very own picture with Santa. Afterwards, Santa read Twas the Night Before Christmas to all the children. The nurses were so loving and kind to the children. What beautiful children…you have a place in our hearts this Christmas!
 Here is a little information from their website on what PSA does:
Bring home high quality healthcare from
compassionate and capable providers.
When it comes to providing for medically fragile children and adults, we know what matters most! We strive to provide the very best for our patients everyday. Many times our services allow for loved ones to stay home for their care, surrounded by their family. That quality of life difference can provide for a better, more enjoyable daily life every single day.
PSA Healthcare is the leading provider of pediatric home care services for medically fragile children. We also offer in-home options for adults with medically fragile conditions. Our services provide care for individuals that allow them to be at home.
PSA Healthcare has over 3100 skilled caregivers, providing professional, high quality, private duty nursing to patients in over 50 locations in 17 states.
Our Services are built on:
Multi-disciplinary Team Approach
Best Practice Care Planning and Coordination
Exemplary Education and Support
24/7 Clinical Support and Supervision
Highest Quality Patient Care
Family Centered Approach