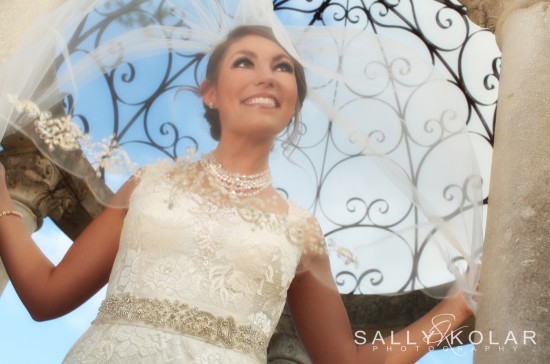 Hey Everybody…We photographed Brooke Durand's Bridal Portraits out at Hopeland Gardens in Aiken. The wedding was this past Saturday, and we are now able to post the portraits for you to view. Brooke wore her mother's dress. Michelle's dress was lovely years ago, and continues to be beautiful, as Brooke had it altered into an elegant contemporary dress.
 Brooke's best friend wrote this note about the dress and Michelle and Brooke's journey for the wedding.  It is one of the most touching things I have ever read. It is a poem written for a daughter wearing her mother's dress. It is written from the perspective of the dress that was loved by both the mother and her daughter.
The Wedding Gown
Lace is Classic. Some of my sisters around me had pearl beading, crystals, or high slits to draw attention, but I had classic beauty. The entire purpose of a dress is to be beautiful, so that even a girl without looks so to speak of will glow on her special day. I was born knowing that, as all dresses like me do, but I always felt I was just a step above.
I hung on that rack for so long I began to doubt my own loveliness. My sisters, one by one, were bought and worn. I was tried on a few times, but the women were not right. See, as every good dress knows as she ages, picking your bride is the second most important thing behind the "I do" she will speak to the man who never can quite compare to the radiance of her.
One day, a young woman with dark hair and features came in. I knew when the dark haired  woman looked at me and fingered the material around me she was mine. With her intelligent brown eyes, tentative hands and smile, we were going to be beautiful together. For months she caressed me, and would try me on, twirling in the mirror to make sure she still looked as good in me as the first time she picked me up-she did.
When our day came, she went misty eyed down the aisle. The man made her breath catch and he smiled at us, love so evident in his eyes even I could see it. She said, "I do" and I preened under the attention.
But as to what happens after that day, even the dresses that had hung on the rack since the beginning did not know the answer to that. After that day, my bride, now a wife, put me in a box and I sat in the dark for longer than I hung on the rack.  For a long time, I thought it was a curse. Every now and then for the first few years she would take my box down and look at me fondly but she never took me out, never wore me again. Even the fond looks stopped after a while, because the photos showed me young in a way a box never could. I could feel the age seeping into my fabric as I yellowed and bled the time from the bottom up.
Not long ago, I was taken out by a woman with intelligent brown eyes and sure hands, smile turned up in away that trembled a little at the edges. There were a few lines around her eyes and mouth, and her hands were changed with age, but the classic beauty of her was the same. My bride opened my box and cradled me again, gingering my fabric with reverence I had not felt in years. She went misty eyed as she handed me to a girl with the same beauty in her as my bride. Bright eyes and smile, and hands like the ones I knew so long ago cradle me and held me to her chest. Her heart beat against me and I found purpose again.
I was changed-modified and made beautiful once more. Time washed off of me as though it were never there. I became something both old and new. It was still me, yet now I know my bride will love me, wear me, say "I do" with misty eyes and put me in a box. For the moments we are together though, I will make her beautiful like the sun, cast a shadow on any beauty that is not hers. And maybe one day, when I feel forgotten and lost, she will cradle me once more with now sure hands and pass me to her trembling, bright eyed daughter who will caress me in a way that drags me back to a dark haired woman with tentative hands.
Written for Michelle and Brooke Durand with love from Erin.