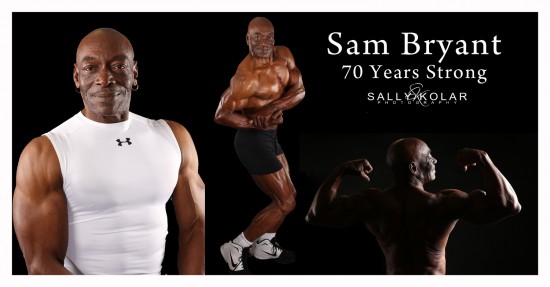 Hey Everybody…When I sat down to read the Sunday paper tonight, I looked on the front page and saw Sam Bryant. I photographed Sam a few months ago.  He is an amazing body builder.  People cannot believe it when they discover that Sam is 70 years old!  What an inspiration he is to everyone he meets!
Here's the story from the Augusta Chronicle today:
Written by:
Staff Writer
Seventy-year-old Sam "Sonny" Bryant Jr. sometimes wonders what it must feel like to be old
70-year-old Sam "Sonny" J. Bryant works out his core in preparation for a bodybuilding competition in Macon at the Gold's Gym on Walton Way Extension on April 4, 2013. Bryant, who has 27 years of competitive bodybuilding experience, works out twice a day. "People think I'm unique because of my age," Bryant said. "I'm doing what I think everyone else should be doing. You take it for granted when you're young. You think you're going to be healthy all your life. You're not."
70-year-old Sam "Sonny" J. Bryant works out  in preparation for a bodybuilding competition in Macon.
Dozens of trophies from 70-year-old Sonny Bryant's 27 years of bodybuilding competitions are displayed at his Hephzibah home.
Dozens of trophies from 70-year-old Sonny Bryant's 26 years of competitive bodybuilding are displayed at his Hephzibah home.
Sam "Sonny" J. Bryant (center) competes in the open men's middle weight division against Brett Borland (left) and Michael Elston, during pre-judging at the INBF Southern Natural BodyBuilding and Figure Championship at Wesleyan College in Macon, Ga.

Seventy-year-old Sam "Sonny" J. Bryant (right) looks to Reggie Vandiver, 30, as Vandiver was named the overall winner at the INBF Southern Natural Bodybuilding and Figure Championship at Wesleyan College in Macon, Ga. "They're my idols; that's my inspiration," Vandiver said of Bryant and another competitor in his 60s. "I go to work and I see guys in their 30s and I say 'I don't want to hear nothing. I just did a show with guys in their 70s.' I just hope I can be doing it when I'm they're age."
An average morning for him includes deadlifting more than twice his body weight. The only pills he has to remember to take are vitamins. On Saturday nights, he likes to go out dancing alongside the 20-somethings.
A champion bodybuilder from Heph­zibah, Bryant has bulging biceps and shoulders on his 5-foot, 10-inch and 176-pound frame. Even his abs stay defined in perfect squares when he slumps in a chair.
Bryant works the graveyard shift at Kimberly-Clark as a forklift driver and works out twice a day to maintain the body that has won him more titles and trophies than he can count.
Since he picked up bodybuilding 26 years ago at age 44, Bryant said, he has learned that the secret to youth is nothing physical at all.
"People have the misconception that age makes you old, but I realize that it's a state of mind that makes you old," he said. "Age is just a number, and it gives most people – the majority of people – a reason to be lazy and not do anything.
"I hear a lot of people telling me, 'Oh, wait till I get their age.' Then I tell them how old I am and it kind of embarrasses them. But I tell them that to make a point. That the inactivity and the thought process is what makes them old … I really, honestly, I've never felt like I aged since I started bodybuilding at 44. I don't feel no different."
Not for show
Bryant is not like most 70-year-olds, but he is also unlike most bodybuilders.
For most hard-core fitness athletes, the sport is extremely regimented as to what they eat and how much rest they get, said personal trainer and bodybuilding competition promoter Alli Kerr, of Macon, Ga.
"For pros, it's really a lifestyle," Kerr said. "There's no, 'Let me drive through Wendy's and get something to eat.' You plan your meals and plan your day around your food. It's not at all an afterthought."
Bryant's diet typically is a dry waffle or scrambled eggs with well-done bacon at Waffle House after he gets off work at 6 a.m. before hitting Gold's Gym on Walton Way Extension an hour later.
He might not eat again until after his second workout of the day on his way to work at 10 p.m., which might be a piece of lean meat or sweet potato fries from Burger King.
Bryant says he maintains muscle by religiously taking vitamins and 180 grams of protein supplements every day.
"I don't eat that much," he said. "I never did three meals a day. As long as I'm busy, I don't get hungry, I don't get sleepy. It don't bother me, so I feel like if it ain't broke, don't fix it."
Bryant uses a common workout method called pyramid training, in which athletes gradually increase the amount of weight in a set then decrease the weight back to where they began to grow muscle mass.
Bryant never keeps track of the weight on his dumbbells, though. When deadlifting, he blindly adds weights to the 45-pound bar as sweat pours from his temples and down his cheeks.
His style isn't as showy as that of the other guys in the gym. When he reached 425 pounds without counting one recent morning, his grunts were quieter than those from the men lifting half as much.
"Some people snatch it up, drop it down, make a show," Bryant said. "No, no. That's not why I do it."
Finding his way
Byrant, born in Hephzibah in 1943, is one of seven children to a father who worked in the chalk mines and a mother who was a maid and school bus driver.
After graduating from Lucy C. Laney High School in 1964, he joined the Army and served seven years before being medically discharged in 1971 for blistering on his feet.
Bryant married a neighborhood girl before joining the Army, but the marriage failed because he was always stationed away from their Hephzibah home.
After being discharged, he chose to stay in Chicago with a cousin to work. There he trained to be a restaurant manager, worked in a fabrication plant and cleaned a barbecue pit and office buildings.
He returned to Augusta in the early 1970s to a broken marriage, worked at Merry Brothers Brick Co. and Federal Paper and opened an automotive shop for a few years.
He began working at the Vet­erans Admin­istration medical center as a nursing assistant about 1977 and met his second wife when her father was a patient there.
It was never a love story, he said, but Bryant was blindsided when she told him one night in 1986 that she wanted a divorce.
The shock forced him to search for an outlet. He joined Elite Gym on Peach Orchard Road, where he found a new love.
The obsession started immediately. He was never overweight but loved the way working out made him feel, and as his body toned up, he loved the attention he got from people even more.
Eleven months later, at age 45, Bryant entered his first competition in Columbus, Ga. He arrived with the wrong outfit – a red, white and blue Speedo – and no idea how to pose, and winged it.
"The judge called out for a pose, and I had to see what everybody else was doing," he said.
He won two trophies – third place in the novice division and fourth place in the masters over age 35 division.
"I was hooked then, just like a crackhead," he said. "I had finally accomplished something. I had won some­thing I had worked so hard for."
Still going strong
From then on, his life revolved around working out and competing, and he remains entirely self-taught. His work and gym schedule have kept him from seeing much of his five children over the years, something he sees as unavoidable with life's obligations.
The gym, though, is something that is always there.
He retired from the VA in 1997, restored old military vehicles for a few years and became a trainer at Omni Gym in Augusta before joining Kimberly-Clark in 2009.
Bryant went on to compete in dozens of competitions in several states over the years, earning his professional card from the National Gym Association in the masters over age 60 division when he was 60 and the over age 21 open division at 61.
He married a third time in the late 1990s, feeling pressure to settle down but never loving her like a wife, he said. As they drifted apart and divorced in 2005, Bryant's relationship with his body only grew.
He has stayed dedicated to getting ripped naturally and steered away from the competitive circuits that accept substance use. In his early years, he competed alongside steroid-injected athletes but realized it is more rewarding to achieve physical stature the honest way.
Charlie Carollo, the vice president of the amateur International Natural Bodybuilding & Fitness circuit and the professional World Natural Bodybuilding Federation, said bodybuilding among older Americans is growing rapidly. Years ago, his competitions offered only an over-40 class, but he had to add over-50, then over-60, divisions as interest grew.
"I think people are more concerned about their health and realized that with exercise and dieting and not going insane about it and putting everything in perspective, there are benefits to doing this," Carollo said.
For Bryant, the drive comes from the feeling that lifting weights and seeing results give him. He competed at an INBF competition in Macon on July 27 and placed first in the open middleweight division while competing against men 18 and older.
The plan is to continue building his physique, perhaps to compete against younger athletes in the non-natural circuits, just to prove he can.
"Age shouldn't hinder you from doing anything," Bryant said. "People ask me when I'm going to act my age. Well, I'm not an actor, and who set the rules about how you're supposed to act at a certain age, anyway? I'm doing it because I love it, and age don't play a factor in how I feel in what I'm doing."
Staff Photographer Jon-Michael Sullivan contributed to this article