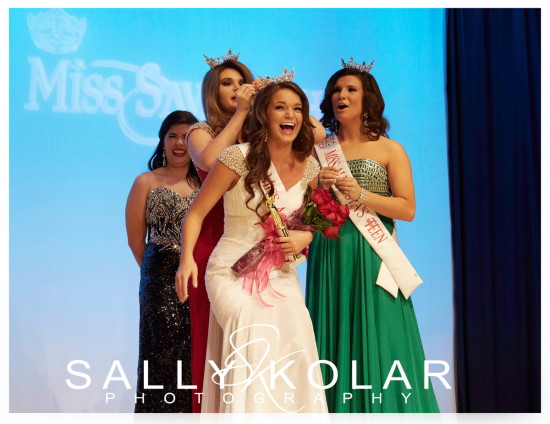 Our own Emily Borden-(Lakeside High School alum-Emily is presently a junior at UGA) being crowned the New Miss Augusta 2014! Congratulations Emily and mom Brenda!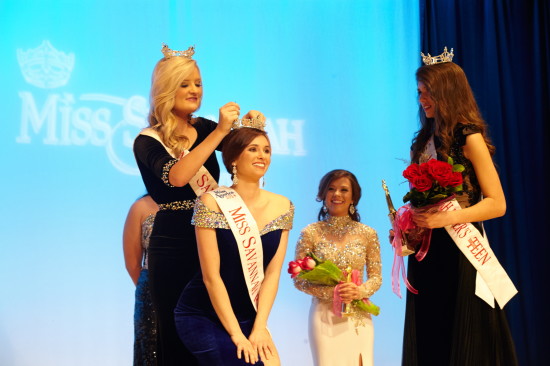 Congratulations to Hilary Pulos who was crowned Miss Savannah River 2014! Your evening dress was fabulous!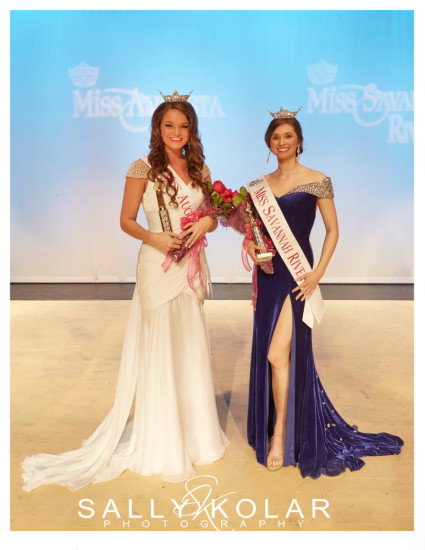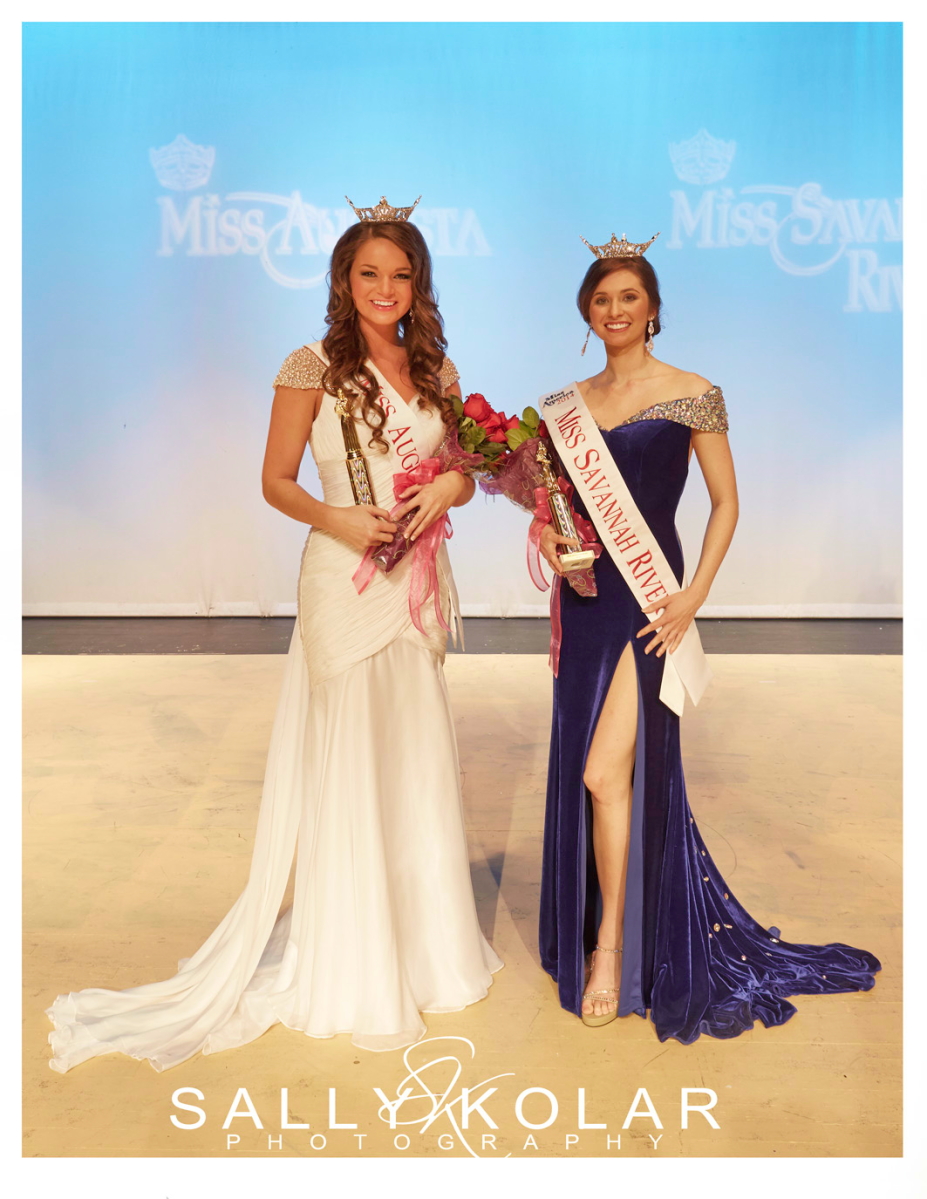 The first photo of Emily and Hilary together!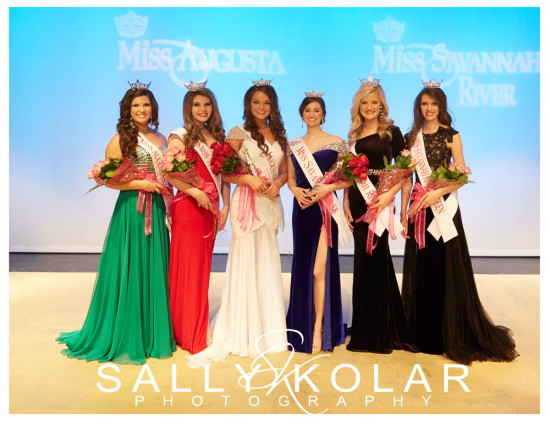 The reigning Queens with the New Queens: Mollie Allen, Kendyl Pennington, Emily Borden, Hilary Pulos, Madison Brett and Karson Pennington.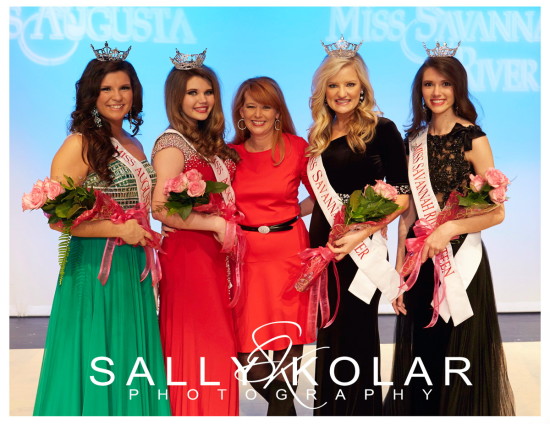 The Reigning Queens one last time with Miss Lynn. Mollie Allen, Kendyl Pennington, Lynn Huff, Madison Brett and Karson Pennington.
Hey Everybody, today was the Miss Augusta Pageant 2014 The pageant is organized every year by Miss Lynn Huff who does an amazing job at the pageant and thru out the year mentoring these beautiful girls. Today's pageant was held at Greenbrier High School. The contestants were: Hilary Pulos, Racheal Bulluck, Amanda Lawler, Emily Borden, Madison Phillips, Jessica Jennings and Mackenzie Marable.  The contestants  were judged in interviewing skills, talent, sportswear/bathing suits and evening gown. These girls are all very talented, and should be so proud that they competed in the pageant. The Reigning Queens were there to help with the pageant and crown the new winners. The reigning queens were: Miss Augusta 2013 Kendyl Pennington, Miss Savannah River 2013 Madison Brett, Miss Augusta Outstanding Teen 2013 Mollie Allen, and Miss Savannah Outstanding Teen 2013 Karson Pennington.
The judges were:
Debbie Herring: Debbie is a native of Hartwell Georgia. She is a graduate of The Georgia Baptist College of Nursing of Mercer University in Atlanta, Georgia. Debbie is currently employed as a Registered Nurse Surveyor with the Healthcare Facility Regulation Division of the Georgia Department of Community Health in Atlanta.  She is a member of  the Georgia Nurses Association and Beta Sigma Phi Sorority. For the past 12 years, Debbie has been involved with all phases of pageant production, coordination and contestant preparation. She has served as the Executive Director of the Miss Northeast Georgia and Miss Lake Hartwell Scholarship Pageant an official Miss Georgia Preliminary Pageant. An experienced judge, having judged at the state and local level, Debbie is an accredited Miss Georgia Preliminary Judge. She and her husband, Bruce currently reside in Elberton Georgia and are the proud parents of two sons Daniel and Tyler.
Marian Arnold: Marian is the Assistant Director of the Miss UGA pageant and has been actively involved in all aspects of the past seventeen years. She has judged many local and state pageants and is an accredited Miss America Preliminary Judge.  Marian is very active in her church, she is the wedding coordinator and has been teaching Sunday school for the past twenty five years. In her community she serves on many civic organizations and serves as the Relay for Life Organization. Marian resides in the Athens Area with her husband. They have two sons and she is a new proud grandmother. Her hobbies include traveling, cooking, and spending time with her family.
Sherri Clark: Sherri  is a native of Augusta, Georgia. She has worked in the banking industry for the last thirty six years and currently works for Georgia Bank and Trust. Sherri has been involved with pageants over the last decade. She is the mother of two daughters, Dana Clark Thomas and Shelly Clark Blackburn who began their pageant careers by competing in the Miss Augusta program. Both of her daughters went on to win multiple titles across the state of Georgia and Tennessee.   Sherri's most prized role is that of "Grandmother". She is proud grandmother to two boys, Tucker and Trent Thomas and she enjoys spending all of her spare time with them. She is currently residing in Appling, Georgia, a suburb of Augusta, with her husband Raymond.
Donna Arauz Leopard: Donna ia a lifelong resident of Augusta, is married to a local attorney and "Double Dawg", Greg Leopard; together they have two daughters, Julia, a thirteen year-old student at Davidson Fine Arts Magnet School, and Emilia, a third grade student at Warren Road Elementary School. Over the past decade, Donna has served as an English teacher at Fox Creek Charter High School in N. Augusta, South Carolina where she serves as the Director of the Miss Fox Creek High School Pageant, featured on last fall on MTV's hit show Made. In 1998, Donna served as Miss Augusta, the local representative to the Miss Georgia America Scholarship Pageant where she received the Non –Finalist Interview Award. She enjoy the interview portion of competition because it gives women the opportunity to express their views and interest in a one on one setting with the judges. Previously Donna taught at Silver Bluff High School, where she also served as a director of the high school pageant. T. W. Josey High School and Jackson High School in Butts County, Georgia. In 2005, Donna obtained her National Teacher Certification for Adolescents and Young Adults and completed her Masters in Educational Leadership studies through   Augusta State University in 2010 and attended Weselyn University. Currently, Donna is pursuing her Educational Specialist in Secondary English through Georgia Southern University. Involved in her community, Donna was a member of the Junior League of Augusta and a volunteer with the Augusta State University Literacy Center, tutoring adults and children in the afternoon. An avid University of Georgia fan, she and her family love watching the Dawgs play football are are World Wrestling Entertainment enthusiasts who attend live wrestling events whenever they get the chance. Donna and her family are members of Resurrection Lutheran Church in downtown Augusta.
Jonna Wilson Thompson; Jonna is a 2006 graduate of Screven County High School in Sylvania , Georgia, where she was a four-year letterman in Varsity Football and Competiion Cheerleading. In 2006, she competed against 50 other girls from around the state of Georgia and won the title of Miss Georgia Forestry. During her reign, she made nearly 100 appearances across the state promoting her platform and the Forestry industry. She graduated from Georgia Southern University with a Bachelors degree in Psychology. She plans on attending graduate school to obtain her masters in School Counseling. She is an insurance agent at Heritage Insurance in her hometown and also works as a makeup artist for Estee Lauder. She is a certified Miss Georgia judge. She has been featured as a judge on the hit show Toddlers and Tiara's on their most popular episode! When she's not working or judging pageants Jonna enjoys traveling and shopping
The Miss Augusta/Miss Savannah Rapids River Franchise would like to thank the following individuals and businesses for their unwavering support. They are: EDTS, LLC, Anderson and ATkins, CPA, Hilton Garden Inn, Brittany's House of Elegance, Ladybug's Florist and Gifts, Sally Kolar Photography, Mellow Mushroom, Jay Jeffries, Edge Salon, Miss Augusta/Savannah River Board, Greenbrier High School, and the many volunteers who make the pageant run so smoothly.
Congratulations to all the girls, you are all Winners in my book!